How Long Does It Take To Get STAAR Results?
The State of Texas Assessments of Academic Readiness (STAAR) is the testing program for students in Texas public schools. Each STAAR assessment measures the student's performance in the syllabus based on the Texas Essential Knowledge and Skills (TEKS) grade level.
Below is a review of the TEKS and STAAR grade-level expectations.
STAAR 3-8 Assessments:
Grades 5 and 8: science
Grade 8: social studies
STAAR End-of-Course Assessments (required for graduation)
English I
English II
Algebra I (students taking Algebra I in the 8th grade will take the EOC assessment)
Biology
US History Additional Resources (including student tutorials)
In the above breakdown, you can see how the Grade 3-8 assessments are foundational for the STAAR end-of-course assessments. Essential reading and mathematics classes transform into advanced English and Algebra classes. Therefore, a student's performance in grades 3-8 will significantly impact the STAAR results later on.
For more information about STAAR Grades 3-8 and EOC, visit here.
How To Check Your STAAR Test Results?
Go to http://www.texasassessment.com/
All STAAR results from the spring 2023 administration will be released to parents using the Texas Education Agency Student Data Online Portal. STAAR testing finishes in Early July 2023, so results are to be released after that.
You will be able to access your child's scores online the moment they become available, and you will also be able to view your child's entire state testing history. Click here to review the scheduling letter for all released testing scores for 2022-2023.
You will need to know your child's portal access code to the Texas Education Agency website, so make sure you have it.
On previous years' STAAR Confidential Student Reports, your child's access code could be found in the lower right-hand corner. This access code belongs to your child for their entire K-12 public education.
Click on 'Log In' to Student Portal
Click OK in the pop-up box.
You will then be redirected to the Texas Assessment Data Portal.
Type in the access code and your child's birthdate to access their scores.
IF YOU DO NOT KNOW YOUR CHILD'S 6-DIGIT PORTAL ACCESS CODE
Click on the 'Lookup Access Code' link.
Enter the Student's First Name, PEIMS ID (either the Social Security Number or the State ID Number), and Date of Birth.
Then click GO.
The student's Access Code will automatically fill. Using the drop-down menu, enter your child's birthday again and click GO (see the image below for where the Unique Access Code will appear)
Once you've successfully entered the Unique Access Code and Date of Birth, the student's test history will be displayed on the screen.
Click on any test name to view its scale scores and details.
To get an electronic copy of the STAAR Report Card, click the Download PDFs button in the upper-right corner. Then click on the test administration to view the STAAR Report Card. The system will generate a PDF file suitable for download/printing.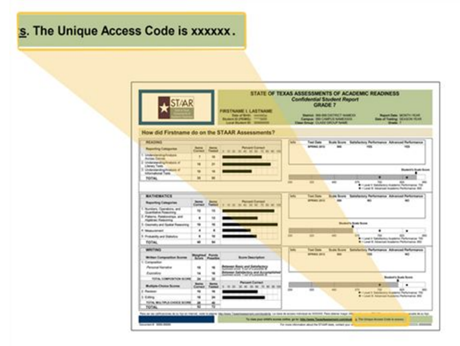 As mentioned earlier, initial STAAR test results are essential because all student learning in these grades (3-8) will be foundational in success and achievement in later years and later test results.
Suppose you're unhappy with how your child/student's progress, it's possible to review the school district results by subject. Click here to check the aggregate data for 2020-2021. This might help teachers or parents understand how their child/students compare to a more significant average result.
What Do The Scores Mean?
Once you've logged into the Assessment Portal, you might look at your child's scores and think, "what does all this mean?"
Below we've defined the following terms to help you understand the STAAR test scoring:
1. Masters Grade Level – Passing Score
This means that your child is expected to succeed in the next grade level or course with little or no academic intervention. They were formerly known as "advanced." This is the best possible score, congratulations!
2. Meets Grade Level- Passing Score
This means that your child has a high likelihood of success and achievement in the next grade or course but may still need some short-term intervention. This is the second-highest score; well done!
3. Approaches Grade Level- Passing Score
This means that your child met the assessment requirements for promotion into the next grade level and has met at least the minimum passing standard. This is an average score.
4. Does Not Meet Grade Level – Not a Passing Score
This means that your child did not meet the minimum passing standard for that assessment. Students at this level will need significant academic intervention. This is the lowest possible score given. Your child likely needs tutoring in this subject if they want to achieve in this subject in the following grade.
Texas Education Agency (TEA)
Now that you've reviewed your child/student's results, it's time to understand the governing body that controls your child's testing and education standards.
Projections indicate that by 2030, most jobs will require some training and education past a high school level. But today, too few Texan students ever achieve post-secondary/post-high school training. This means that many Texans may one day be without work because they lack the proper training or credentials to be hired.
The Texas Education Agency has strategized a solution, however:
Recruit, Support, and Train teachers in the State of Texas
Build a strong foundation for each student for reading and mathematics
Connect High School learning with careers and college education
Improve low-performing schools
Knowing the TEA manifesto makes sense as to why your child/student is being tested through this rigorous process. In order for your child to have a successful future and dependable job, they need to have post-secondary training or credentials, which means they have to have performed well at this early stage ever to progress further.
The well-known adage goes, 'give a man a fish, and you feed him for a day; teach a man to fish, and you feed him for a lifetime. This is true in this case as well. Your child will need to learn how to feel (go to college or have some post-high school training) in order to survive in the predicted future world. It begins here, with achieving well in the STAAR tests.
Relevant STAAR Test Guides
Sarah is an accomplished educator, researcher and author in the field of testing and assessment. She has worked with various educational institutions and organisations to develop innovative evaluation methods and enhance student learning. Sarah has published numerous articles and books on assessment and learning. Her passion for promoting equity and fairness in the education system fuels her commitment to sharing insights and best practices with educators and policymakers around the world.